Caricabatterie SkyRC D200 [SK-100097]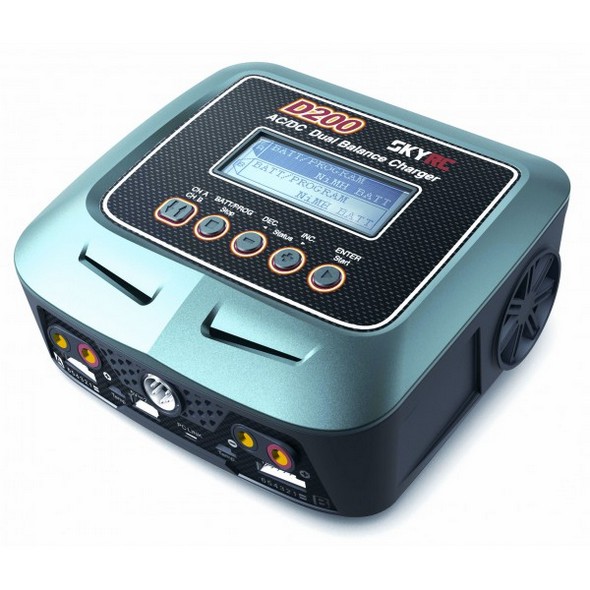 SK-100097 SkyRC D200 Dual Balance Charger-Discharger AC-DC
Input Voltage AC100-240V / DC 11-20V
Charge Circuit Power DC Input CH A 200W / CH B 100W
AC Input 200W (Support Power Distribution)
Discharge Circuit Power 2 x 10W
Charger Current Range CH A 0.1-20A / CH B 0.1-10A
Discharge Current Range 0.1-5A
Current Drian for Balancing Port Max 300mA/cell
Trickle Charging Current 30mA-300mA & OFF
LiPo/LiFe/Lilon/LiHV Battery Cell Count 1-6S
NiMH/NiCd Battery Cell Count 1-15S
Pb Battery Voltage 2-20V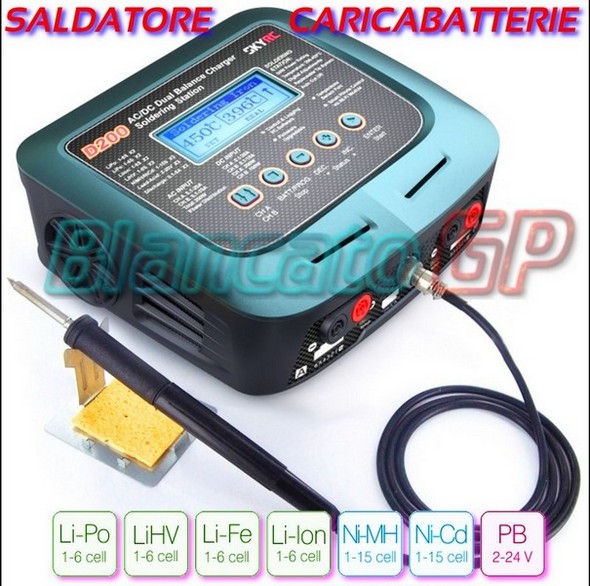 SKYRC D200 is a dual output charger, which supports power distribution with AC source. It has new
functions, like, Terminal Voltage Control (TVC), Battery Meter, Battery Internal Resistance Meter.
It has software protection, like, Current Limit, Capacity Limit, Temperature Threshold and Charging
Time Limit.It supports PC control and firmware upgrade.
Additionally,it has a built in soldering iron that can heat up to 450℃ with heavy duty 60W, the
temperature is adjustable from 200-450℃.